Discover new experiences, take your time and Relax!...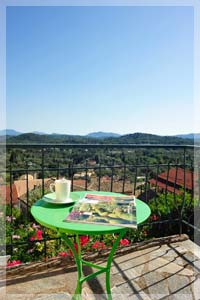 The prospectus may seem idealized and flowery, it confirmed our previous guests have expressly and recommended not to change it.
In the years that we rent the house, our guests and we made the following experiences:
A holiday in Ano Korakiana is
not
suitable if you
- Need a complete, organized, by program holiday
- Look for the flair of large hotel complexes with set meal times and animation
- Want to make a simple beach vacation (always on the same beach, if possible the towel always in the same place)
A holiday in Ano Korakiana is recommended if you:
want to discover: different people, different lifestyles, different colors, different heavens, perhaps even yourselve

need to relax, tension developed by the stress of everyday life, without being accompanied by the sweet music of constantly advertisement

Want to try: now a gravel beach in the south, eat tomorrow a music festival in the north, in a way Tarverne something tomorrow to stay at home doing nothing, perhaps the evening out in a disco ...

In peace and quiet time to read a book, intense with your partner, friends or family want to be together
Decide which type of vacation you prefer and need at this time!