Ano Korakiana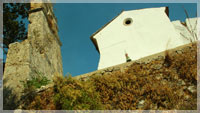 The
village of Ano Korakiana
, in the distance, looks like the mounts Korakio and Korendi that are located in the north-central
Corfu
and are 17 kilometers away from the town of Corfu, embrace it.
The inhabited area of the village maintains a lot of traditional aspects from medieval times, and still shows resistance to the time and pressure of the modern lifestyle. However, the houses and the natural environment of a place are not the only aspects that define it. The people living in it are those who actually leave their indelible mark on it.
Ano Korakiana info
From the foothills of the northern winds by Pantokratormountain protected is the village of Ano Korakiana. It is a traditional Greek mountain village, which was first mentioned in 1500. Ano Korakiana is one of the most beautiful villages in Corfu and was ahead of time flow of tourists in the 70's for its richness of olives one of the most prosperous villages of Corfu. Many buildings and over thirty churches and chapels all around us. In these times, the village had over 2500 inhabitants.
Today about 800 people live in Ano Korakiana. The village has retained its original character and has a rich cultural life, especially the religious and national holidays. Corfu is also known about the Philharmonic Orchestra Ano Korakianas.
Although the village a few kilometers from the sea, is not significantly influenced by tourism. The residents of Ano Korakiana are anxious to keep the village tidy. The village is one of the few places in Corfu, where you can drink the tap water.
In the village you will find small grocery stores, a bakery and several coffee shops. In addition, a medical practice is available.
Ano Korakiana is located about 17 km north of the capital of Corfu town. The connection is made several times daily by local bus. The nearest beach is 4 km (Ipsos, East Coast) or 10 km. (Paleokastritsa, West Coast)
Ano Korakiana Activities
Walks. Walk amongst the beautiful trees and the rich flora of our settlement or follow the standard walking routes (the route Ano Korakiana - Sokraki - Zygos, for instance, will offer you you an unforgettable experience)

Ano Korakiana is renowned for its long tradition in music. Visit places and events where you can listen to choral music or musical groups like the famous Ano Korakiana's Philarmonic Society "Spiros Samaras".

Make baths or even try some of the numerous sea sports offered in our near beaches (Ipsos or Paleokastritsa).

Cycling. Ride your bicycle and follow picturesque routes in shadowy streets or paths and discover our island's hidden beauties.
Ano Korakiana Photos